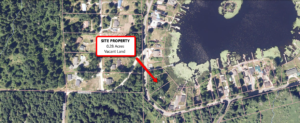 Buy this property today and get it for as low as $19,500 (Cash price) – more than 50% off market value!
DON'T MISS OUT ON THIS PROPERTY IN PIERCE COUNTY
PROPERTY DESCRIPTION:
This is a lakefront lot of 0.28 acres (12,320 sqft) fronting the beautiful Whitman Lake in Graham, WA.
This property is valued at more than $40,000. Buy this today, you can get it for only $19,500 (cash price) – more than 50% off market value! Seller financing is available. See below for more details.
If you love boating, camping, biking, picnics by the lake, fishing, trekking, this location is perfect for you! This property is also great for nature lovers, for people looking for a great spot for a nature-bound vacation and also for people looking for a space to call their own when they retire.
This vacant land is surrounded by other private, single-family properties, nearby lakes, business establishments, schools, parks and many other amenities you can access in just a short drive from the property.
This property has many options. Contact the County and see what's possible.
More Information about the Property:
Zoned RSR (Rural Sensitive Resource) – Permitted uses include single-family detached housing and mobile home- Contact the county to check on your specific requirements.
Here is a link to the zoning use matrix for Graham, WA:Graham Zoning Matrix
Lakefront Lot – this property is fronting Whitman Lake. Access road is at Whitman Lake Dr.
Utilities are accessible from road but not on property
Helpful numbers:

Graham, WA Utilities Services : (253) 798-4050
Pierce County Planning and Land Services (253) 798-3739
This property is located approximately 61.5 miles south of Seattle, WA; approximately 37 miles west of Mt Rainier and approximately 141 miles north of Portland, OR.
Property is sold as-is with no warranties or guarantees. Buyer responsible to verify all information with the property authorities.
AREA INFORMATION:
About Pierce County, WA:
Pierce County is a county in the U.S. state of Washington with a population of 795,225 in 2010, making it the second-most populous county in Washington behind King County. The county seat and largest city is Tacoma. This County was named for U.S. President Franklin Pierce.
Pierce County is notable for being home to Mount Rainier, the tallest mountain and a volcano in the Cascade Range. Its most recent recorded eruption was between 1820 and 1854. There is no imminent risk of eruption, but geologists expect that the volcano will erupt again.
This County is adjacent to counties King, Yakima, Lewis, Thurston, Mason and Kitsap County, and is also home to three (3) National protected areas.
About Graham, WA:
Graham, WA is a census-designated place (CDP) in Pierce County, WA with a population that grew to 23,491 at the 2010 census. This town has a total area of 21.4 square miles (55.5 km²), all of it land.
Graham has a number of primary schools and is accessible to many nearby schools and colleges in Tacoma, Lakewood and Puyallup.
Here are some of the things you can enjoy in Graham, WA:
Boating
Lake Viewing
Camping
Picnics
Biking
Trekking/Hiking
Fishing
Some places to visit in and nearby Graham, WA include:
Morse Wildlife Preserve
Marcus Sophia Winery
Camp Lakeview
Tanwax Lake
Twin Lakes
Lake Kapowsin
Clear Lake
You can find more information about Deer Park, WA on their Wikipedia page by clicking here
Quick Facts about Graham, WA: from bestplaces.net
ECONOMY - Recent job growth is Positive. Graham jobs have increased by 2.48 percent.
POPULATION - Graham's population is 24,330 people. Since 2000, it has had a population growth of 162.15 percent.
TRANSPORTATION - Average Commute time is 38 minutes. The National Average is 26 minutes.
REAL ESTATE - The median home cost in Graham is $282,800. It's a good time to buy in Graham. Home Appreciation is up 5.4% in the last 12 months.
OWN IT TODAY FOR AS LOW AS

$19,500 (Cash Price) – up to 50% off Retail Price!
OR USE SELLER FINANCING...and get it for $21,000.
Option 1 - Pay in Full:
Purchase Price: $19,500 cash
+Deed Preparation/Closing/Recording: $500
Total Due: $20,000
Option 2 – Seller Financing (No Credit Checks):
Purchase Price: $21,000
+Deed Preparation/Closing/Recording/Loan Docs: $500
| | | | | |
| --- | --- | --- | --- | --- |
| Down Payment | Interest | Monthly Payment | Term Length | Total Due Today |
| $6,000 | 12% | $333.67 | 60 months | $6,580.00 |
| $7,000 | 11% | $304.39 | 60 months | $7,580.00 |
| $8,000 | 10% | $276.21 | 60 months | $8,580.00 |
| $10,000 | 8% | $223.04 | 60 months | $10,580.00 |
These prices are before the monthly service charges. These fees will be an additional $30/month for loan servicing and liability insurance, 1/12 of the yearly tax bill per month (approx. $20). The total due today reflects the down payment as well as a one-time closing/recording fee of $500 due upon agreement acceptance, as well as a 4-month reserve for taxes. You may pay off the property at any time with no pre-payment penalty.
**Buyer is responsible for verifying all information with the County as to what can and can't be done with the property. Buyer will need to work with the County to attain the proper permits if needed. Buyer will also need to confirm the availability of any utilities needed or serviced on the property. Seller makes no warranties or representations about the land, its condition, or what can be built on the property.